>> Wednesday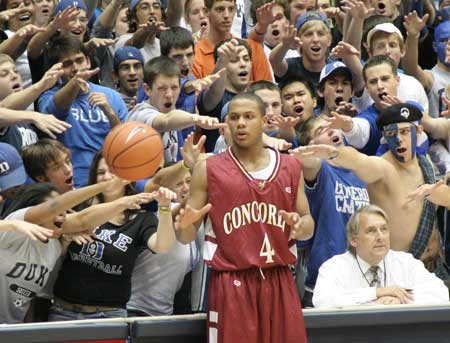 SI.com writer Grant Wahl takes a shot at what he calls "College student sections going too far." Somewhat odd considering that SI.com regularly posts shots of College fans hurling abuse.

While there certainly are a few who step over the line (Death threats to family members, and throwing stuff at people isn't cool, man), a lot of Wahl's "problems" really don't seem that bad, and the article is pockmarked with other various forms of blowing the issue out of proportion, using the actions of a stupid few to indict a passionate many, and generally just being an ass.

"While nobody has ever called (Oregon's) Pit Crew P.C. -- its members once printed a thousand copies of an embarrassing picture posted on Facebook of Stanford's Fred Washington at a party."
Comment 1: Oh no! What if his future employer was there!?!?
Comment 2: Isn't the proper measure here for Washington to not post embarassing pictures of himself on a website where he is searchable by name?

Wahl posts numerous references to homophobic chants and signs that I won't detail here. Obviously, just saying "You're gay" is pretty uncreative. However, Wahl's adherence to this point shows he has a short memory. "Fighting Irish" was initially applied to Notre Dame not as a creative mascot but as an anti-Catholic slur. Not just 100 years ago, but in the movie Knute Rockne All American: which was released in the 40s (Rockne is asked if hockey would be a good substitute for football at ND, to which Rockne replies "Notre Dame will never support a sport that puts a club in the hands of an Irishman").

In the 1970s, Georgia Tech fans littered the field with fish and barraged the Irish with similar anti-Catholic insults. While I really can't see any team adopting any such moniker in the future, Wahl is seemingly oblivious to the fact that derision of your opponent for whatever reason you see fit has long been a staple of organized sport.

When Illinois hosted Indiana on Feb. 7, the home fans took out their frustration on Hoosiers freshman guard Eric Gordon (who'd reneged on a verbal commitment to the Illini) by chanting "F--- you, Gordon,"
Scottish Comedian Billy Connolly (better known as the dad in Boondock Saints) has a great routine addressing this very thing. He says that swearing doesn't limit your vocabulary. He knows tons of words and still prefers "F***," and that he has yet to find an English equivalent for "F*** off!" "It isn't 'Go Away.' Go away now! Shoo!"

I can here the chants now. "Go Away Gordon! Go away!" He already did, you schmucks. That's why he's wearing Crimson instead of Orange.

"The abuse that fans are bringing day to day, whether it's on talk radio or in the stands, is going to ruin the game eventually," says Michigan State coach Tom Izzo. "I hate to say this because freedom of speech is at issue, but this isn't what freedom of speech is ­intended for."
Somewhere I remember hearing that the First Amendment wasn't being put in place for popular speech, but for unpopular speech. This kind of speech, as vile as you may sound it, is EXACTLY the kind of free speech that the first amendment is intended for.

It's been my understanding that the stadiums (especially those on state-run campuses) are public places. All over the world people use their stadiums to express what some people would call unpopular viewpoints. (FC Barcelona and The Old Firm in Europe come to mind).

Some of the same conditions that make college basketball so popular-an intimate atmosphere, passionate crowds, heated rivalries -- can also create a volatile situation when fans cross the line. But what is that line? When Duke's Cameron Crazies donned caps and gowns on Feb. 13 and held up signs reading MARYLAND BASKETBALL: FEAR THE CLASSROOM, was it a creative dig at their rival's ACC-lowest graduation rate or a boorish put-down?
Isn't the bigger problem here Maryland's low graduation rate? While we can all agree that very many basketball players are in college to play basketball and not to go to class or get anything resembling an education, I'm not letting Wahl off the hook here. Earlier in the article he criticizes students choice of words by stating that colleges are supposed to be beacons of enlightenment. It seems unfair to hold the students to one standard of education for their performance in the arena and the players to another.

And once an adrenaline-filled crowd gets going, it can be extremely hard to control. Even though Hoop Scoop -- the pamphlet circulated within Illinois's student ­section-encouraged members "to keep your composure and to refrain from vulgarity" when Indiana's Gordon took the floor, the students followed that directive for, oh, about 1.3 seconds before the anti-Gordon chants started. (It didn't help that the pamphlet devoted eight times as much space to rehashing every detail of Gordon's recruitment.)
OK, does Wahl (or anyone) for that matter think that these things actually work? He seems shocked that when the university boot-lickers said "Don't swear," people didn't comply.

But like so many Presidential candidates, Wahl points out a lot of problems but doesn't really offer any practicable solutions.

Strong responses from college officials and coaches are necessary to help control unruly crowds, Stan Love and Eric Gordon Sr. argue, pointing out that neither ­Oregon coach Ernie Kent nor Illinois coach Bruce Weber stepped in to address their vulgar fans on the P.A. systems.
Again. Pamphlets. See above.

According to Love and Gordon, none of the offending fans were ­ejected in either game. "They need a code of conduct,"
Again, it's a sporting event. You should expect this. Passions run high, and even if they didn't, it would be a free speech issue.

Perhaps it's no surprise that some players (including Hansbrough and Paulus) say they have stopped using Facebook ­altogether. Then again, fans may need to read only a newspaper or a website to find ammunition for taunts. aAfter Memphis's 79-78 last-second win at UAB, Tigers forward Robert Dozier is standing only a few feet from a ­female member of the Gang Green student section who's wearing an I DATED DOZIER T-shirt and an ersatz black eye-a reference to a complaint filed against Dozier for allegedly striking his girlfriend outside a nightclub.
Again, isn't the real problem here violence against women, not heckling fans? And last but not least, the stupidest pargraph of the article...

If there was one saving grace for the Loves, the Gordons and Memphis, it was this: Their teams overcame those unruly crowds and left victorious. Eric Gordon Sr. is convinced that was no coincidence. "They were so nasty, so hateful, such poor sports, that it all turned back around and we won the game," he says. "I think it's karma."
I'm sure it had nothing to do with the fact that those three teams (UCLA, Memphis, and Indiana) are a combined 73-8, and the three teams they faced in those games (UAB, Oregon, and Illinois) are a combined 45-37.

The bottom line is, this article was insulting. It took the actions of a stupid few to cast a blanket net over college basketball student sections, which, let's be honest, if I wanted basketball with less atmosphere, I'd watch the NBA.

There's enough sit-on-your-hands, wait till the Fan-o-meter or "Rock and Roll Part II" comes on to show any kind of indication on whether or not you care about the game in this country for people like Grant Wahl. Don't stamp out the only major sport in this country where you have genuine passion for the team and real atmosphere that makes a place consistently hostile to play in every night regardless of how well the team is doing. While threats to family members and racist taunts are not cool, people need to realize that no one actually intends to follow through on a threat. The scraggly kid from Centralia is going to climb over the railing and personally take out a trained professional athlete? Mountains out of molehills.