>> Saturday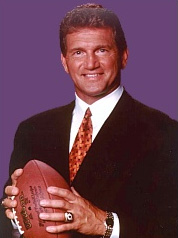 He may have lost his job on Monday Night Football, but Joe Theismann's ESPN career is stronger than ever... on ESPN Classic at least.

For those of you doing something useful with your Saturday afternoon, useless people around the country are currently tuned into ESPN Classic, which is showing an American Gladiators marathon all day today. If you're unfamiliar with the early, pre-Larry Csonka days of American Gladiors, Theismann was Mike Adamle's orignial color partner on the show. One need only watch five minutes of classic Gladiators to realize that this was the stage where Theismann was most in his element.

And for the record, Mike Adamle was just macking on Lace like nobody's business.
Read more...